However, Samsung's share is on the decline, while Xiaomi is pulling ahead, currently with a 23.6 percent share. Interestingly, Samsung is slowly losing market share year-over-year, while Xiaomi upped its sales by 51 percent. This is the data published by the renowned research firm Counterpoint.
However, market trends in the fourth and final quarter of the year will be strongly influenced by the pandemic and chip shortage, which has already affected the decline in overall global smartphone shipments when compared to the second quarter of 2021. The situation will be made interesting by the new smartphone models, which attract younger customers with better purchasing power which there are plenty of on the European continent.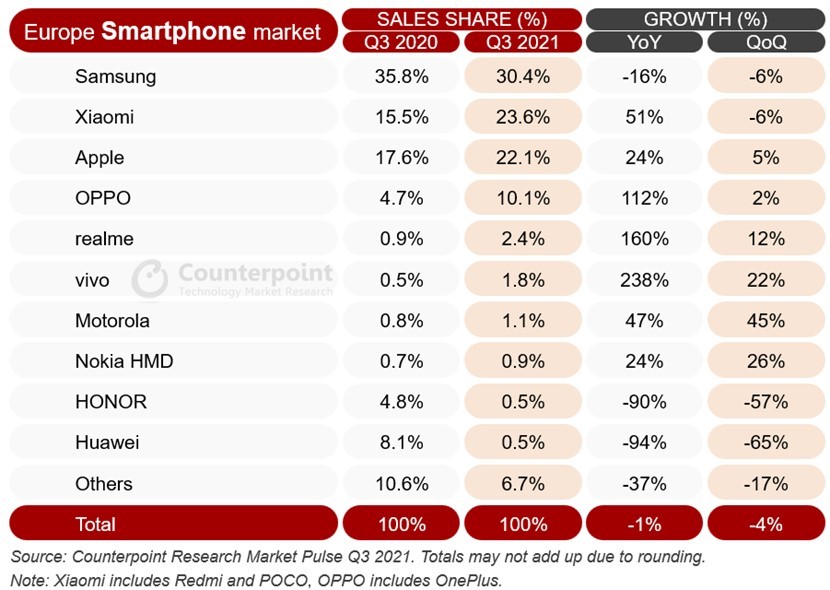 Let's keep in mind that Apple's iPhone 13 hit the market near the end of the third quarter, so its sales impact won't show until the end of December. For now, Apple is third on the list, with a 22 percent market share, and it is possible that the new model helps it push Xiaomi out of second place. Experts even predict that Apple could achieve record results in Europe in the next three months.
Samsung, on the other hand, has an ace up its sleeve in the Galaxy Z Flip 3 model, which is extremely popular in Western Europe. Xiaomi does not have a brand-new model, but the existing models on the market are all the rage among young users and Xiaomi is showing stable growth.
The market is also looking interesting outside the top three, as we can note strong growth in sales of Realme smartphones. At the moment, the Indian brand has a minor market share, but its sales grew 160 percent in a year, and they are popular in Russia, Spain, and Italy. Once leaders and very popular manufacturers Nokia and Motorola are not throwing their hats in the ring because, despite marked growth, with about one percent market share they are no longer serious players. The biggest drop is recorded by former star Huawei, which had an incredible 94 percent decline year-over-year, as imposed sanctions and accusations of espionage caused user distrust.