Canalys reported that global smartphone shipments went down 10 percent year-on-year during the period from April to June. This decline shows a slight improvement compared to the 12 percent contraction seen in Q1 2023. The report highlighted that smartphone vendors have been focusing on clearing up inventory by offering sales incentives to promote the sale of older models, making space for upcoming launches.
Samsung maintained its position as the leading global smartphone maker with a market share of 21 percent, slightly down from 22 percent in Q1. Apple followed closely with a 17 percent market share, showing a sequential decline of 4 percentage points.
Beyond the top two, there were signs of recovery in smartphone shipments due to stabilizing macroeconomic conditions and targeted marketing efforts. Xiaomi secured the third position with a 13 percent market share, marking a 2 percentage point increase compared to the previous year, driven by the popularity of its Redmi-branded models.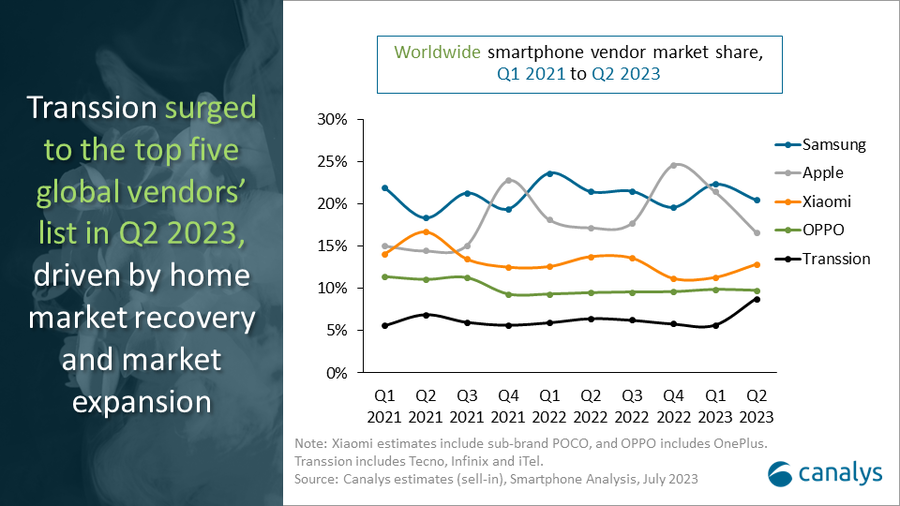 Oppo, including OnePlus, held the fourth spot with a 10 percent market share, benefiting from a strong performance in the core markets of Asia Pacific. Vivo rounded out the top five with an 8 percent share, driven by the success of its affordable Y-series models.