The PC market had a tough first quarter, reveal global market intelligence firms IDC and Canalys. Worldwide shipments of desktops and laptops suffered a drop of around 30 percent in the first quarter of 2023 compared to the same period in 2022.
IDC reports a drop of 29 percent to 56.9 million units, while Canalys reports a drop of 32.6 percent to 54 million units.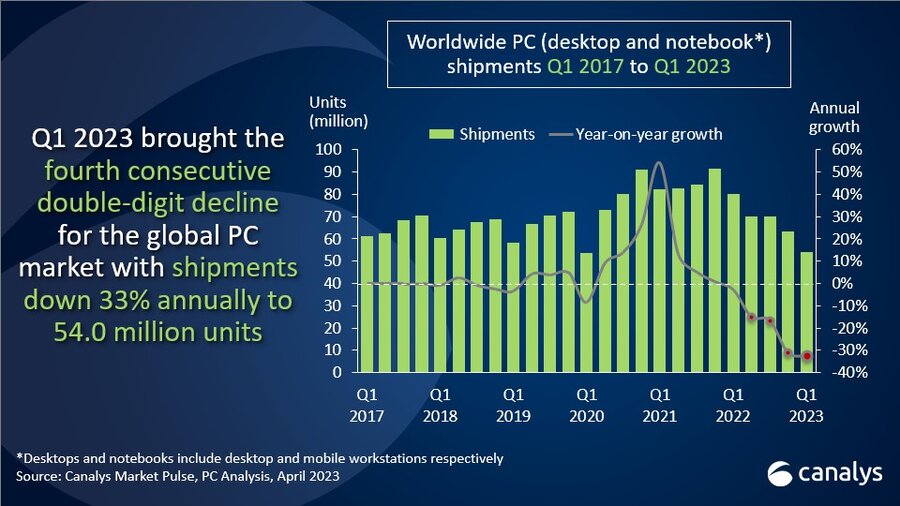 Although the top manufacturers – Lenovo, HP, Dell, Apple, and Asus – all suffered double-digit declines, Apple appears to be the hardest hit. IDC claims that its shipments dropped by 40.5 percent, while Canalys mentions a drop of 45.5 percent. Both research houses suggest the Mac maker's market share has also declined by between one and two percentage points.
The drop in Mac shipments is hardly a surprise. Apple reported a drop of 29 percent during its last earnings release (covering the three months ending December 31, 2022), and had previously warned that sales of its computers would "decline substantially." However, these latest reports put Apple's drop in the context of an entire industry that has been in trouble for several quarters. Canalys notes that Q1 2023 was the fourth consecutive quarter of double-digit annual declines for PC makers overall.
There appear to be several interrelated reasons for the drop. One is the end of the huge demand that has occurred over the past couple of years as everyone stocked up on computer hardware so that employees and students could study and work from home. But that's not the full story, as IDC notes that shipments this quarter were "noticeably lower" than pre-pandemic levels. General economic uncertainty also appears to be playing a role, with Canalys' Ishan Dutt citing rising interest rates in the US and Europe as another cause of reduced demand.
Nevertheless, the researchers believe that demand will increase in the second half of 2023 and 2024. "If the economy is trending upwards by then, we expect significant market upside as consumers look to refresh, schools seek to replace worn down Chromebooks, and businesses move to Windows 11," says IDC's Linn Huang. However, he also warns that the recovery could be long and laborious if the recession continues into the coming year.
Still, IDC points to at least one upside to this drop in demand: supply chains are getting some breathing room to recover, allowing PC makers to explore options outside of China. Apple is thus already working on diversifying its manufacturing despite growing geopolitical pressures.