Microsoft's new Bing experience powered by ChatGPT will be available to everyone today as a "limited preview" on desktop. You'll have a limited number of queries you can use with it, but soon you'll be able to sign up for full access.
If the new interface is displayed when you visit Bing.com, you can test out some sample searches,. Clicking on them will take you to a Bing search page with traditional results on the left and a chat window on the right with the AI-generated response. However, you won't be able to ask follow-up questions or clarify the results until you have full access. Searching for your own query will give you Bing's traditional search results, despite the homepage using the new chat-style user interface.
You can join the waiting list at the link, and Microsoft says you'll get priority if you sign in with your Microsoft account, set Microsoft defaults on your computer, and download the Bing app. According to the FAQ page, you will receive an email when you get through the waiting list and can access the new chat experience.
The company announced that it would provide access to millions of people in the coming weeks and launch a mobile version of the experience. In a blog post about the rollout, Microsoft writes: "We're excited to put the new Bing and Edge into the real world to get the critical feedback required to improve our models as we scale."
The waitlist page gives some examples of how you can use the tool – e.g. asking it to create a three-course vegetarian menu for six people with a chocolate dessert or to find an all-wheel drive car that seats six and can go 0-60 mph in less than six seconds.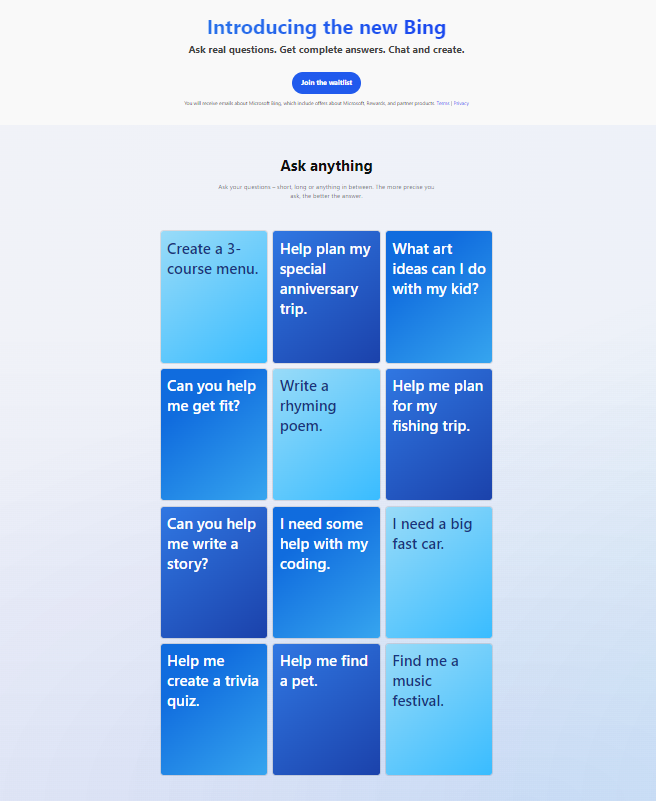 To enable Bing's AI-powered features, Microsoft is collaborating with OpenAI, the company behind the ChatGPT chatbot. Meanwhile, Microsoft asserts that it utilizes "next-generation OpenAI large language model" which is even "more powerful than ChatGPT".
Users of the new Bing can enter queries of up to 1,000 words and get responses with AI-generated comments that appear alongside standard search results. Microsoft is also adding a way to filter these results using a new built-in chatbot on Bing.
The company announced all this news as part of its surprise press event on Tuesday, where it also revealed news about an AI-powered "copilot for the web" that will appear on Microsoft Edge. The tool can perform various tasks while you're using the browser, such as summarizing a PDF you're viewing, generating code, and even creating a social media post.
Microsoft made the announcement just a day after Google revealed it was working on a similar tool called Bard. Both companies are currently waging a fierce battle over the future of artificial intelligence, and this is likely just the beginning.