In the second quarter of 2022, 316 million smartphones were shipped worldwide, i.e. nine percent less than in the same period last year, which was prompted by a drop in demand as a result of regional uncertainty and an unfavorable economic climate, reports the market analyst firm Canalys.
This continues the downtrend in smartphone shipments that has been present since the beginning of the year and, as analysts point out, vendors are forced to reassess their portfolio strategy due to inventory pileup in order to improve their results towards the end of the year.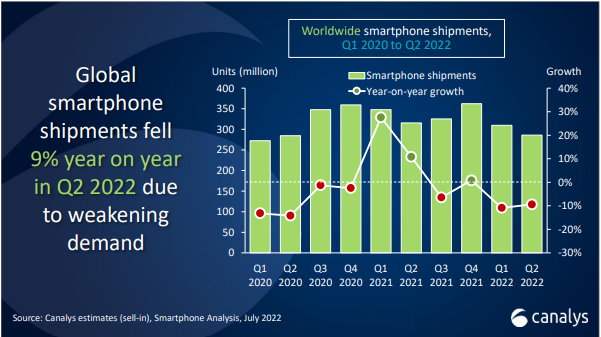 However, despite the overall decline in shipments, researchers note that the demand for Apple and Samsung smartphones remains strong, as they have maintained the top two positions in terms of sales and are the only ones to increase their market share among the top five manufacturers.
Samsung is still the global leader, and following Q2 2022 it also holds the largest market share in terms of smartphone shipments – 21 percent – which represents a three-percent growth of three percent year on year. Apple is in second place with a market share of 17 percent, also increased from last year's 14 percent.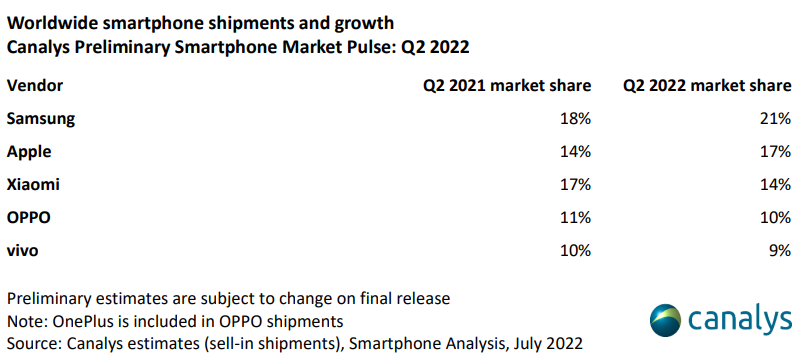 Among the top five suppliers are Xiaomi, Oppo, and Vivo. All three Chinese manufacturers suffered a drop in the market share of smartphone deliveries this year, with Xiaomi's share falling from last year's 17 percent to 14 percent, Oppo's from 11 to 10 percent and Vivo's from ten to nine percent.
According to the analysis, one of the "culprits" for this is the oversupply of mid-range smartphones, which are piling up in inventory as consumers with limited budgets in inflation shift their purchases to lower-priced devices, so suppliers are expected to step up promotions and special offers in the coming months to boost sales even before the 2022 holiday season.
"Falling demand is causing great concern for the entire smartphone supply chain. While component supplies and cost pressures are easing, a few concerns remain within logistics and production, such as some emerging markets' tightening import laws and customs procedures delaying shipments. […] Deep collaboration with
channels to monitor the state of inventory and supply will be vital for vendors to identify short-term opportunities while maintaining healthy channel partnerships in the long run," said Canalys analyst Toby Zhu.