Network slicing is a special form of network virtualization that allows multiple logical networks to exist on a single shared physical network infrastructure (Figure 1). A key advantage of the concept of network slicing is that it provides an end-to-end virtual network, thus enabling not only networking but also data storage functions as well as computing resources. The goal is to enable the physical network infrastructure provider to partition network resources in order to achieve multiplexing of different users on a single physical network infrastructure.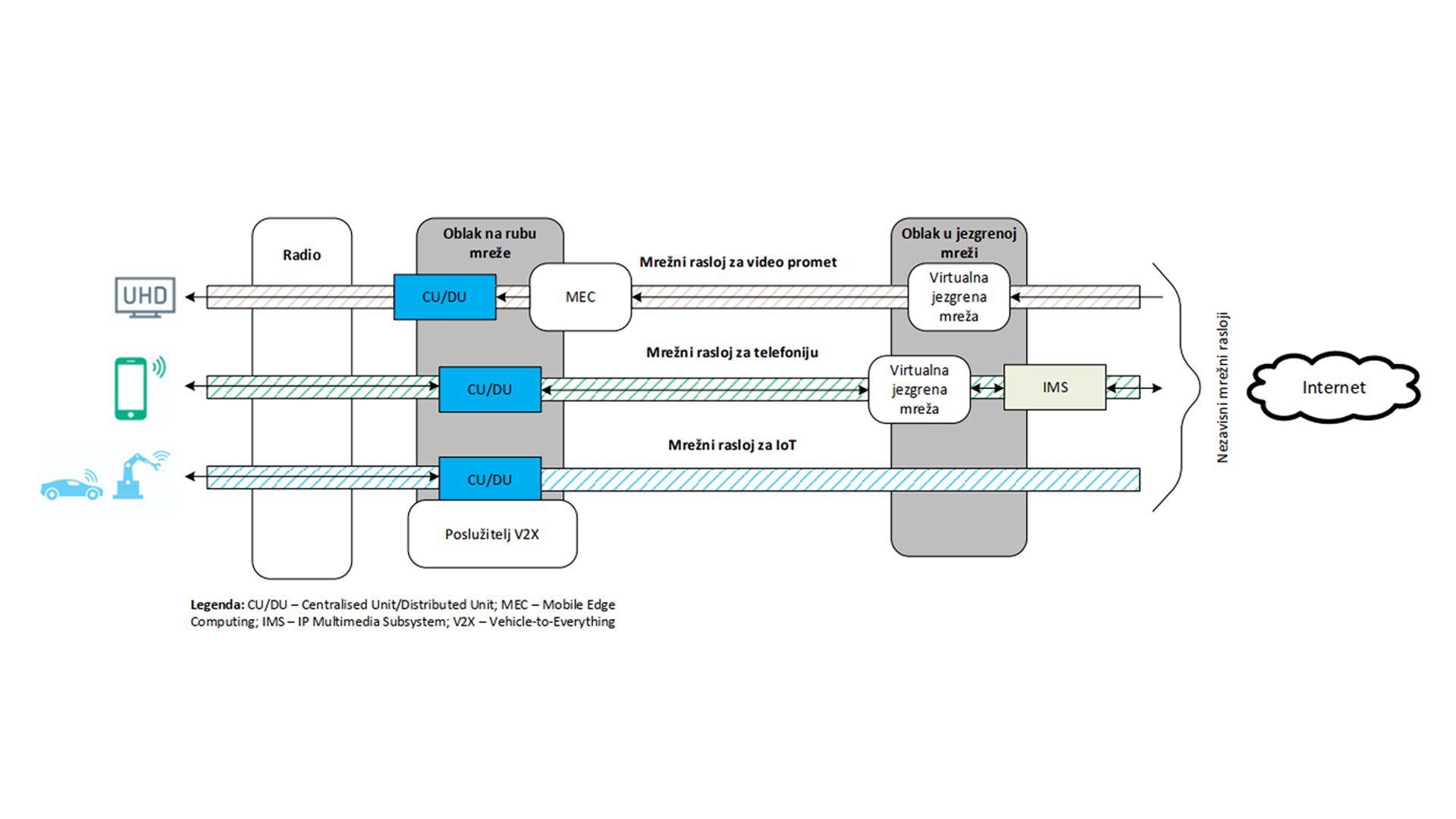 The most common example cited in discussions of 5G is the sharing of physical network infrastructure simultaneously between broadband, Internet of Things (IoT), and low-latency services. It's important to note that these services have quite different network requirements for transfer characteristics. For example, an IoT service will usually include a large number of devices where each device requires a low transfer rate. The broadband access service has almost opposite requirements, as it includes a small number of devices, each of which requires a high transmission speed. The intention of network slicing is to partition the physical network infrastructure from end to end of the connection, thus ensuring optimal grouping of traffic flow of all services, mutual isolation of services and configuration of resources for each service at the macro level to meet QoS (Quality of Service) parameters.
The question arises as to why these requirements cannot be met through some other QoS-oriented techniques. For example, the QoS architecture called DiffServ (Differentiated Services) is designed to classify and manage different types of IP traffic (e.g., voice, speech, and video). There are also other well-known techniques, such as VPN (Virtual Private Network), which separates and isolates traffic flow through the internet using the technique of IP tunneling. Also, newer approaches such as Network Function Virtualization (NFV) aim to virtualize parts of the mobile network. It is evident that each of these approaches overlaps to some extent with network slicing functionalities.
So, why are we introducing network slicing as another approach? There are two reasons. One is based on technical requirements, while the other is of a business nature.
Business reasons for network slicing
Network slicing in 5G is expected to open up new lucrative business opportunities for mobile network operators as well as other new entrants. For example, a network provider is able to divide the physical resources of the network into several logical units (so-called network slices) and lease them to stakeholders. The electric power industry may want to opt for a long-term lease of a part of such network (one or more network slices) in order to connect its 'smart grid', which consists of sensors, meters and controllers, i.e. may want to optimize the QoS of the IoT slice. Furthermore, a concert promoter could rent a network slice on a one-time basis for a music festival and optimize it for the transmission of video and VoIP (Voice over IP) traffic flow. Also, network slicing will enable the development of new business models in mobile networks. For instance, existing cloud service providers (e.g. Amazon, Google, etc.) can find a new business path in the area of mobile networks through network slicing. Also, such business approaches will enable existing mobile operators to rent network slices and focus their activities exclusively on providing high-quality network services, while those who will rent network slices shall become mobile virtual network operators (MVNOs or tenants).
All of the above is quite different from the current state of networks, given that the current physical network infrastructure cannot be granularly configured and optimized for MVNOs.
Technical reasons for network slicing
A key feature of network slicing is that it provides an end-to-end virtual network for an MVNO. No other QoS-based approach can provide anything like this. In particular, DiffServ, as one of the most widely used techniques to support QoS can distinguish VoIP traffic from other types of traffic such as, for example, HD video or web search. However, DiffServ cannot distinguish the same traffic from different MVNOs. DiffServ does not have the ability to isolate traffic flows. For example, IoT traffic from a surveillance network usually has strict security rules, which include both storage of traffic and access to it. This cannot be done using DiffServ because it does not support these actions. The situation is the same or similar with other QoS-oriented techniques as well.
What about standardization?
The different business opportunities provided by network slicing have led to the involvement of different standardization bodies in the process of its standardization. For example, the 3rd Generation Partnership Project (3GPP) deals with the OAM (Operations, Administration and Management/Maintenance) framework specification, which describes how a physical network infrastructure owner will manage network slices as part of their virtualized network. Also, 3GPP deals with the specification of signaling protocols and procedures necessary for the allocation of network slices. Furthermore, the IETF (Internet Engineering Task Force) deals with the problem of implementing network slices in an IP network. In addition, the consensus is that much of the functionality of network slicing can be achieved by a combination of OAM and traffic management, i.e. traffic flow.

Finally, network slicing is part of a general trend to make network services as virtual as possible and move them to the cloud, i.e. make them available to users on demand.