Countries around the world have enjoyed the fifth generation of mobile connectivity since late 2019. However, even with 2023 on the horizon, as well as new trends shaping 5G into the future, consumers in many countries are still waiting to experience the full benefits of 5G.
This is reported by the web testing and network diagnostics company Ookla in its latest report based on the data collected by users around the world on its Speedtest platform.
"We examined Speedtest Intelligence data from Q3 2022 Speedtest results to see how 5G performance has changed since last year, where download speeds are the fastest at the country level, and how satellite technologies are offering additional options to connect. We also looked at countries that don't yet have 5G to understand where consumers are seeing improvements in 4G LTE access," Ookla wrote in a press statement.
In its 2021 report on the same subject, Ookla detailed how an increase in 5G access resulted in a decrease in overall speed at the global level.
According to this year's data, overall speeds have stabilized, even as 5G service has expanded to new locations, reaching a median global 5G download speed of 168.27 Mbps in Q3 2022 compared to 166.13 Mbps in Q3 2021.
Over the same time period, the median 5G upload speed decreased somewhat, to 18.71 Mbps (from 21.08 Mbps).
The Ookla 5G Map shows that as of November 30, 2022, there were 127,509 deployments in 128 countries, up from 85,602 in 112 the year before.
Countries with the fastest 5G internet speeds
According to Ookla's analytics, South Korea and the United Arab Emirates are the countries with the highest 5G speeds for this year.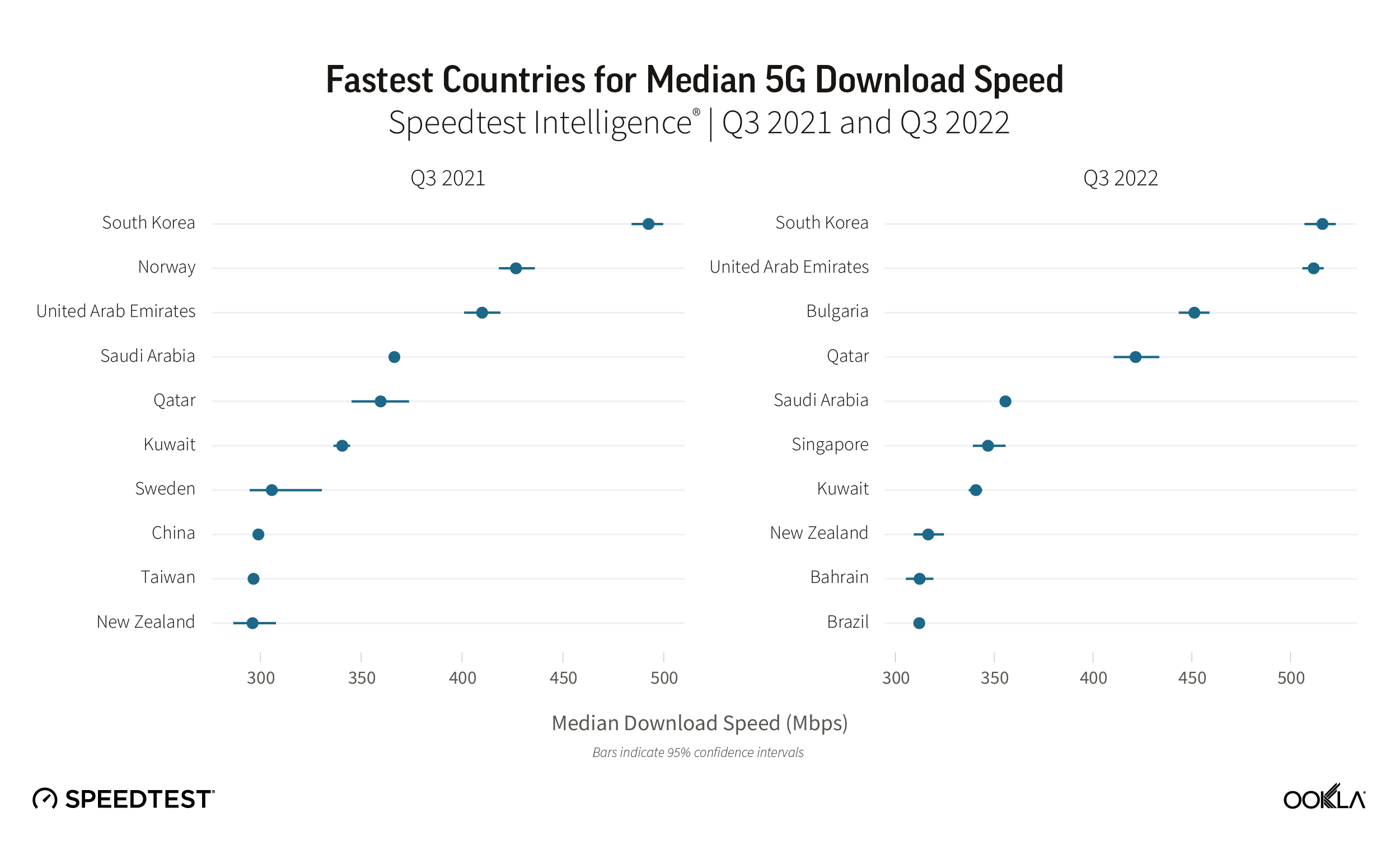 Those two countries measured the highest median download speed of the latest generation at 516.15 Mbps and 511.70 Mbps respectively during the third quarter of 2022.
Korea and the UAE lead the top 10 list that includes Bulgaria, Qatar, Saudi Arabia, Singapore, Kuwait, New Zealand, Bahrain, and Brazil. Bulgaria, Singapore, Bahrain and Brazil are the newest editions, while Norway, Sweden, China and Taiwan dropped out of the top ten.
5G challenges
Ookla says that the availability of 5G technology remains to be one of the main obstacles preventing its widespread use:
"We see wide disparity in 5G Availability among markets worldwide, with for example the US recording 54.3 percent in Q3 2022, well ahead of markets such as Sweden and the UAE, with 8.6 percent and 8.3 percent respectively."
Its "5G Availability" metric measures the percentage of Speedtest users that have 5G-capable phones.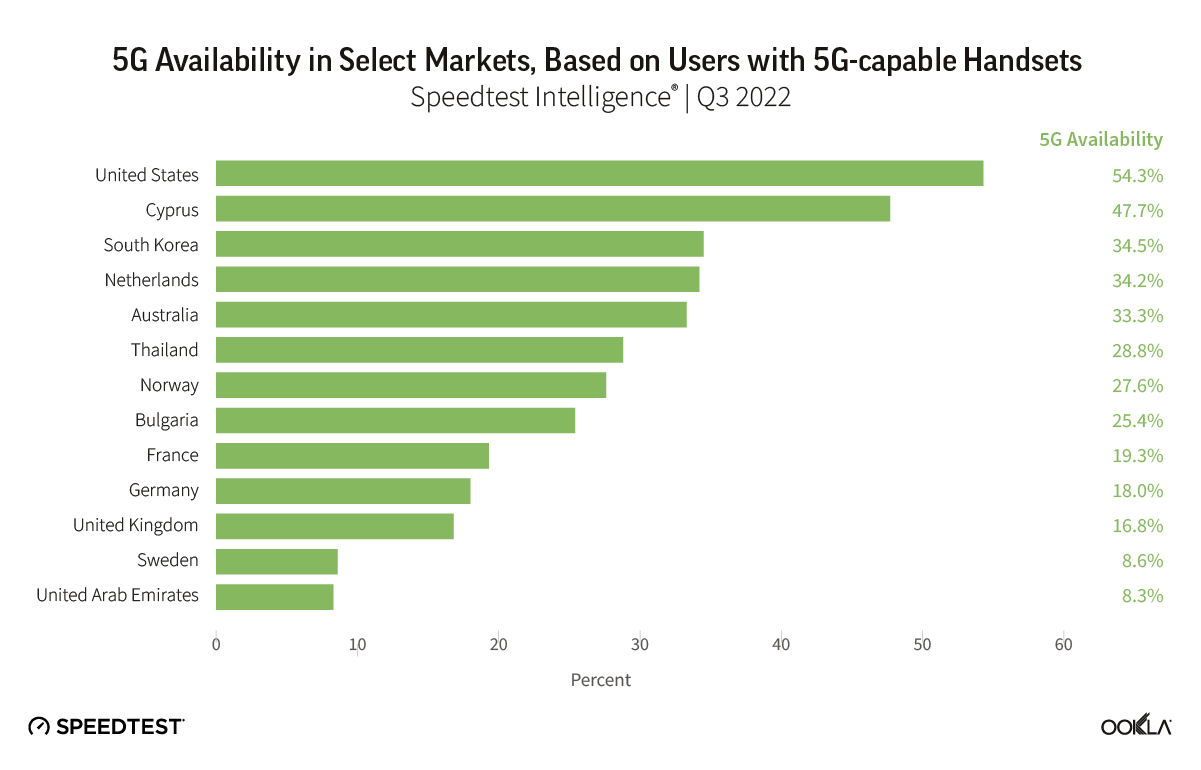 Speedtest Intelligence indicates that some markets are having trouble adopting 5G, with 5G availability declining in Bulgaria, South Korea, the Netherlands, and the United Arab Emirates. The list doesn't feature a single African country.
"As more users acquire 5G-capable devices, operators need to balance their pricing models to ensure users have sufficient incentives to purchase a 5G tariff," Ookla adds.
Speedtest Intelligence also highlighted 29 countries in the world where more than 20 percent of samples were from 2G and 3G connections during the third quarter of 2022. These are mostly developing countries. Namely, many African or Asian nations continue to depend on older networks, given that the deployment of 5G infrastructure is still years away for some.
Countries still heavily relying on 2G and 3G networks
Ookla says that numerous countries have been able to remove themselves from the aforementioned list by reducing their reliance on 2G and 3G technology in recent months. 
Despite the fact that nations like the Central African Republic, Belarus, Cape Verde, Guinea, Guyana, Madagascar, Palestine, Rwanda, South Sudan, Tajikistan, Togo, and Turkmenistan are still included on this list, Ookla notes that they have improved the proportion of their samples on these outdated technologies by at least 10 points compared to last year. Even Ukraine has begun to move away from older forms of mobile connectivity, despite the Russian invasion.
"We're glad to see performance levels normalize as 5G expands to more and more countries and access improves and we are optimistic that 2023 will bring further improvements," concluded the speed test experts.