In terms of average download speeds (measured by users on the Speedtest app), Croatia has retained the 13th place on the global top 15 list, but has also increased average download speed from 214.3 Mbps to 243.6 Mbps. The highest measured download speeds rose from 642.1 Mbps in March to 724.7 Mbps in June. Progress has also been made in average upload speeds – from 33.8 Mbps in March to 35.5 Mbps in June. In addition, the time spent using 5G networks also increased from 17.4 percent in March to 21.5 percent in June.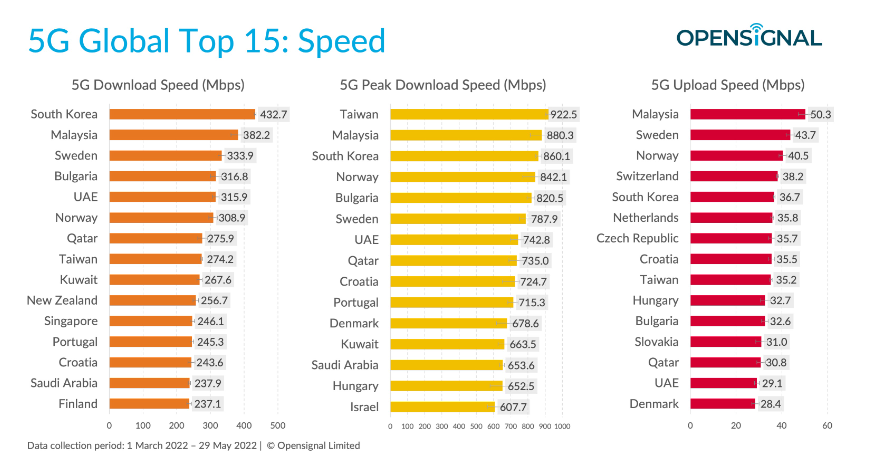 In OpenSignal's latest analysis of 5G worldwide leaders, there are many new entrants in the top 15 national markets across different measures of 5G mobile network experience compared with the data from March. Bulgaria enters the table in six categories, ranking especially high on 5G Download speed (316.8 Mbps), while South Korea still tops the table. Puerto Rico has made the most progress in 5G Availability and Reach, as well as in improving 5G Video Experience, though not enough to enter the top 15. Singapore, on the other hand, has managed to do just that despite its spectrum challenges.
Malaysia has made significant progress in 5G speed categories (both downloads and uploads) as well as in 5G Games Experience. It is, however, important to note that 5G in Malaysia is still in its infancy with relatively few users, so a more objective image is to be expected in the coming months.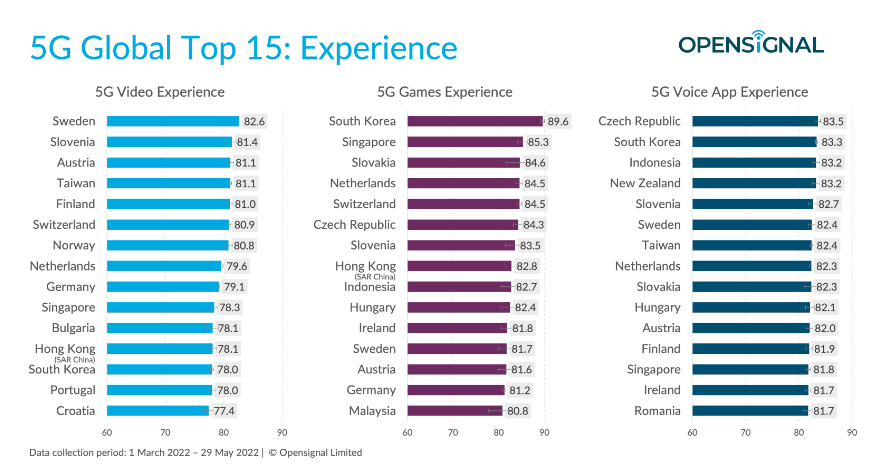 According to the last 5G benchmark in March, only three markets surpassed the 300 Mbps mark for average 5G download speeds, but now there are as many as six. South Korea, Sweden, and the United Arab Emirates have been joined by Bulgaria, Norway, and Malaysia – although the latter is something of an anomaly because of the limited 5G uptake to date.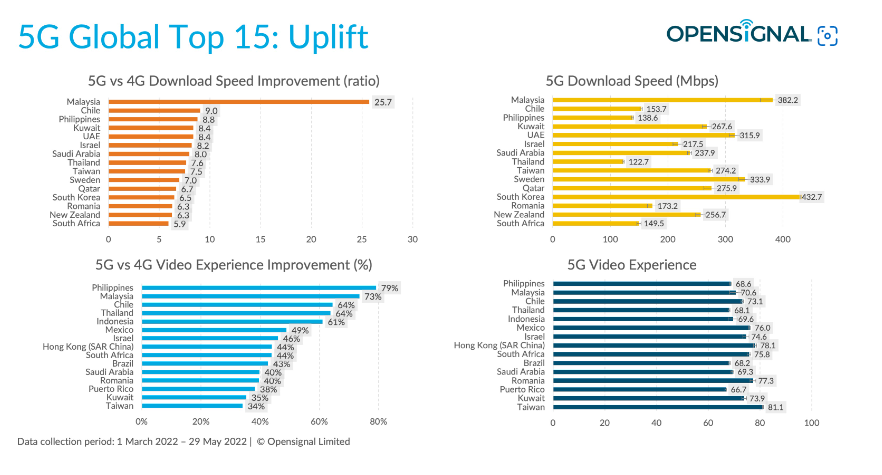 There is, however, no change at the top; South Korea is again the world leader with the highest average 5G download speed (432.7 Mbps) and the best 5G Games Experience metrics (89.6). Nordic markets continue to do well in several categories, as do Gulf Cooperation Council (GCC) markets: Kuwait, Qatar, Saudi Arabia, and the UAE. The US also ranks highly on both 5G Availability (25.2%), i.e. the time users spend connected to 5G, and on 5G Reach (6.0).