The company has announced plans to produce 150 units of the electric car, which can accelerate to 100 km/h in 1.8 seconds with an impressive top speed of 412 km/h.
The hypercar was named after an unexpected and mighty Mediterranean storm that rushes across the open sea of ​​Croatia, explained Rimac Automobili in a press release, after previously announcing that they would offer drivers software that would enable communication with the car itself while driving.
The result of four years of engineering, the Nevera – with all its components and systems improved and enhanced – has now been presented as the production version of the C_Two.
Designed, developed, and manufactured in Croatia, the Nevera will be globally homologated.
The hypercar boasts four electric motors with a total power of 1914 hp and 2360 Nm of torque. Performances exceed those initially planned: top speed, as mentioned earlier, is 412 km/h, the ability to sprint to 100 km/h in less than two seconds, and acceleration from 0 to 402 meters (quarter-mile) in 8.6 seconds.
The price stands at a staggering €2 million, and production is limited to 150 units. Deliveries to customers will start this year.
The Nevera is the most powerful and fastest-accelerating homologated car in production, regardless of the type of powertrain.
What is the Nevera?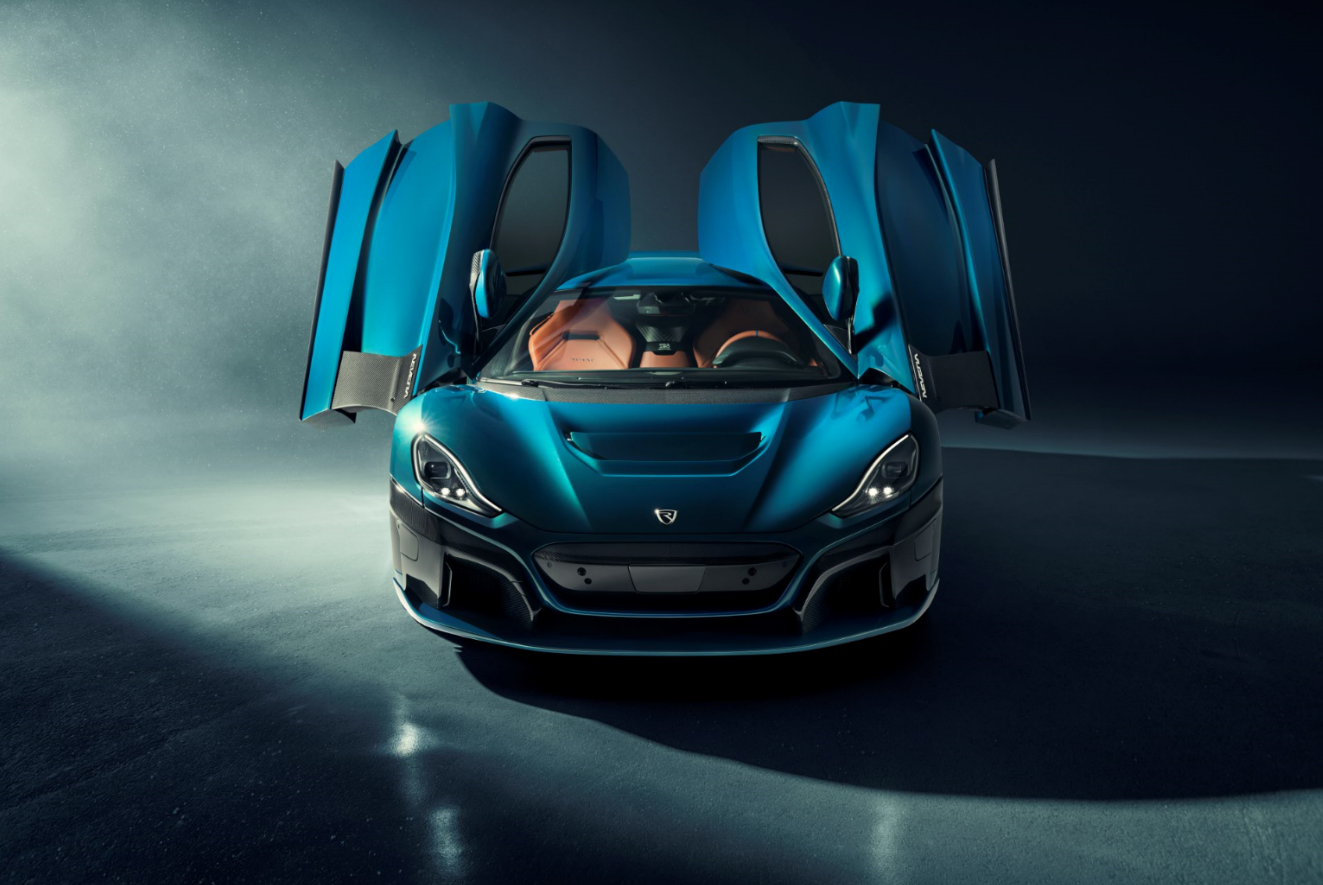 Never in history has there been a car like the Rimac Nevera, a next-generation all-electric hypercar that opens up new dimensions in road performance. With 1914 horsepower from four electric motors, the Nevera can accelerate to 100 km/h in 1.85 seconds and to 100 mph in just 4.3 seconds. It can maintain its eye-widening acceleration throughout a full-throttle cycle, achieving 300 km/h from rest in 9.3 seconds.
The Nevera is a production-ready variant of the Rimac C_Two concept car, first revealed at the 2018 International Geneva Motor Show. Since then, Rimac's engineers have refined their new flagship on all levels during an extensive development program in order to create the ultimate electric hypercar driving experience. Most of the key components of the Nevera have been developed at Rimac's headquarters in Croatia, and all systems have been improved and enhanced since the initial prototypes in order to accomplish the ambitious goals set at the beginning of the project in 2018.
Why is it called 'Nevera'?
Proudly designed, developed, and manufactured by Rimac Automobili in Croatia, Nevera also bears a Croatian name that truly reflects the prodigious performance it can unleash in the blink of an eye. A nevera is a powerful Mediterranean storm charged by lightning, which appears with exceptional speed and potency – a quality that the Rimac hypercar shares with the Nevera name and essence. Like the force of nature after which it is named, it is equally capable of instantly transforming its character from an assured and comfortable grand tourer to an ultra-focused performance machine.
Form that follows function
Rimac strives for effective engineering at every stage, and this philosophy is exemplified in the form-follows-function principle of Nevera's timeless, elegant design. This principle has been applied to every single detail, including Rimac's signature "cravat" feature incorporated into the car's flanks.
"Since the 17th Century, the necktie has provided a symbol of Croatian strength and identity, and we first paid tribute to it on our Concept­_One hypercar in 2011," reveals Rimac Automobili Director of Design, Adriano Mudri: "And, like every element of the car's design, it is there to provide a key function of the Nevera's performance, serving as an air intake for the rear cooling systems."
Advanced monocoque chassis construction
Nevera's groundbreaking monocoque consists of a bonded carbon roof, an integrated structural battery pack, and a rear carbon subframe, which together make up the largest single carbon-fiber piece in the automotive industry. Weighing less than 200 kg, utilizing 2,200 pieces of carbon fiber plies and 222 aluminum inserts, the monocoque protects the car battery by forming a compact yet incredibly solid structure with a torsional stiffness of 70,000 Nm/degree. The unmatched level of power and safety this provides has contributed to the Nevera meeting strict global homologation standards as the car with the most rigid construction in history.
Driving the future
The key to Nevera's outstanding performance lies in Rimac's pioneering electric powertrain. Each component of the Nevera's electric powertrain has been developed to deliver more torque, greater performance, and enhanced efficiency.
The unique, liquid-cooled, H-shaped, 120kWh, 6960-cell battery was designed by the Rimac team from scratch and sits at the very heart of the Nevera. Capable of producing 1.4MW of power, the lithium-manganese-nickel battery also forms an integral part of the car's core, increasing the structural stiffness of the carbon fiber monocoque by 37 percent. The battery's optimal placement low and central within the car's floor contributes to an ultra-low center of gravity. This provides excellent 48/52 front/rear weight distribution and the best possible steering balance. The development of the advanced battery cooling system has increased its efficiency compared to the initial C_Two prototypes, enabling more power over longer periods.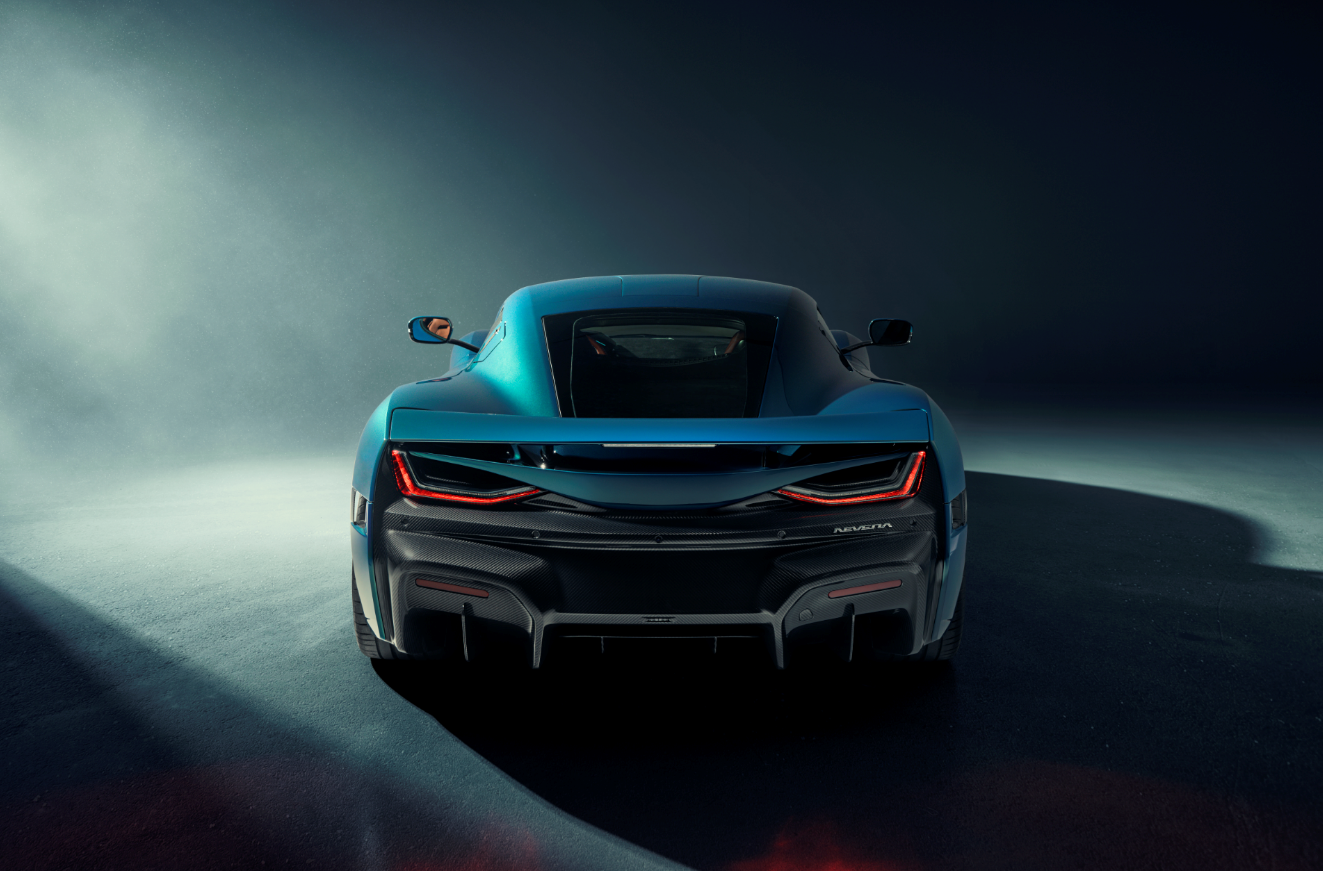 Four bespoke permanent magnet motors drive each of Nevera's four wheels individually. Together, they enable 1914 hp and 2360Nm of torque, which is triple the output of a "conventional-engined" supercar currently on the market. The front and rear wheels are connected to the engines via a single-speed transmission. Designed to instantly summon maximum torque, Nevera's electric motors are 97 percent efficient – compared to 40 percent of the most efficient internal combustion engines – and require no maintenance throughout their operating life.
Rimac's All-Wheel Torque Vectoring 2 (R-AWTV 2) system replaces traditional Electronic Stability Program and Traction Control systems to further bolster grip and traction. The Nevera's R-AWTV 2 system enables infinitely variable dynamic responses to road and track conditions by calibrating the amount of torque supplied to each wheel. R-AWTV 2 calculates the precise level of torque on each wheel to achieve maximum stability with exceptional agility. Both predictive and fast, the R-AWTV reads the road and makes over 100 calculations per second to adjust the level of torque and thus achieve the desired driving style.
The versatile and responsive R-AWTV 2 system enables drivetrain calibration for the Nevera to facilitate any driving style through seven different driving modes, from RANGE to TRACK mode, which enables full, unrestrained configuration. DRIFT mode, for instance, supplies more torque to the rear wheels to accentuate oversteer and keep the car in a controlled drift stage.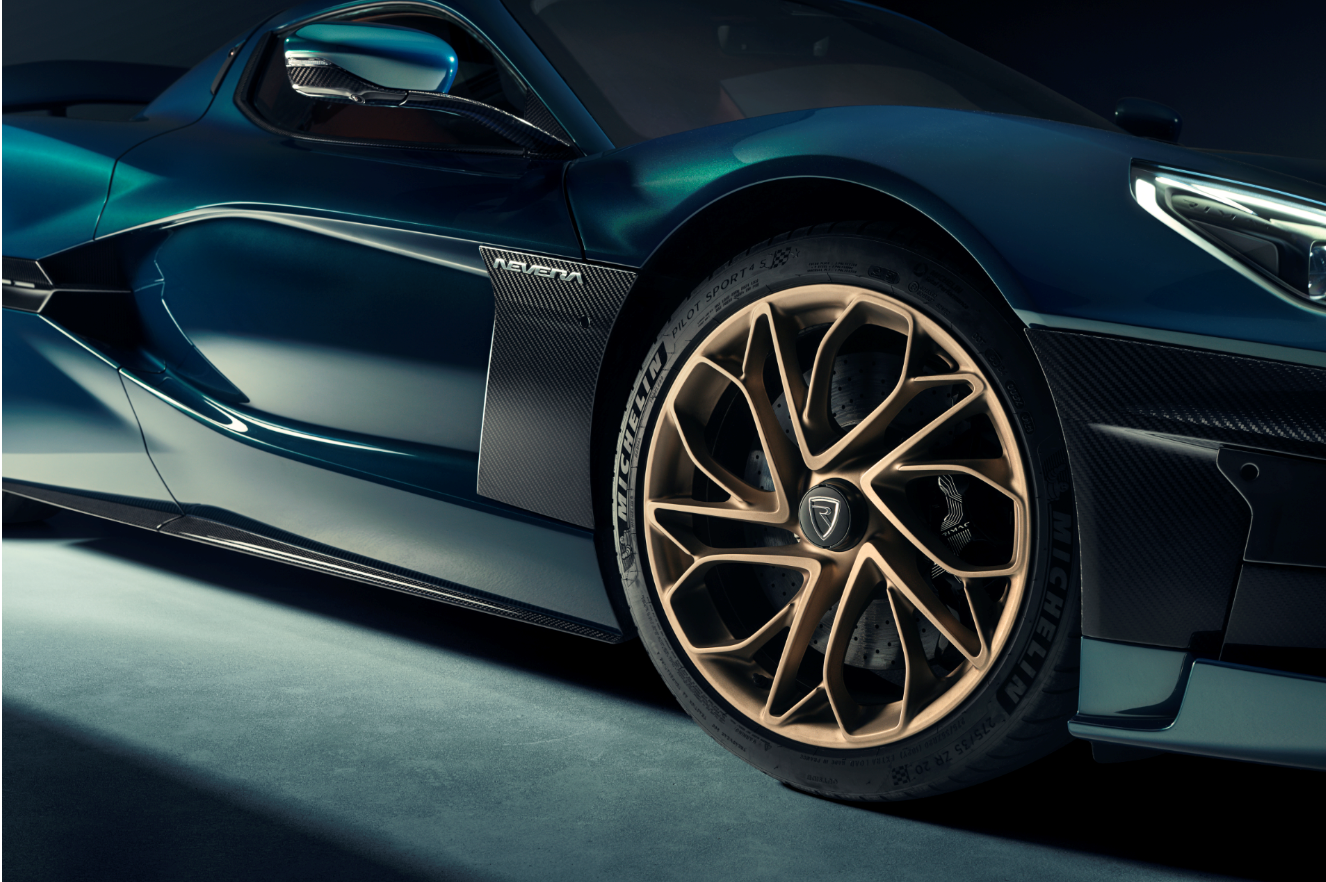 Rimac has also created a number of innovative active aerodynamic elements to improve Nevera's cooling, performance, stability, and efficiency. The front bonnet profile, underbody flap, rear diffuser, and rear wing can be each move independently, driven by complex algorithms that provide the optimal aerodynamic configuration for every driving situation. Switching from "high downforce" to "low drag" mode reduces aerodynamic drag by 17.5 percent, resulting in a drag coefficient of 0.3. Changing back to "high downforce" mode increases downforce by 326 percent.
Minimalist design cabin, maximum comfort and control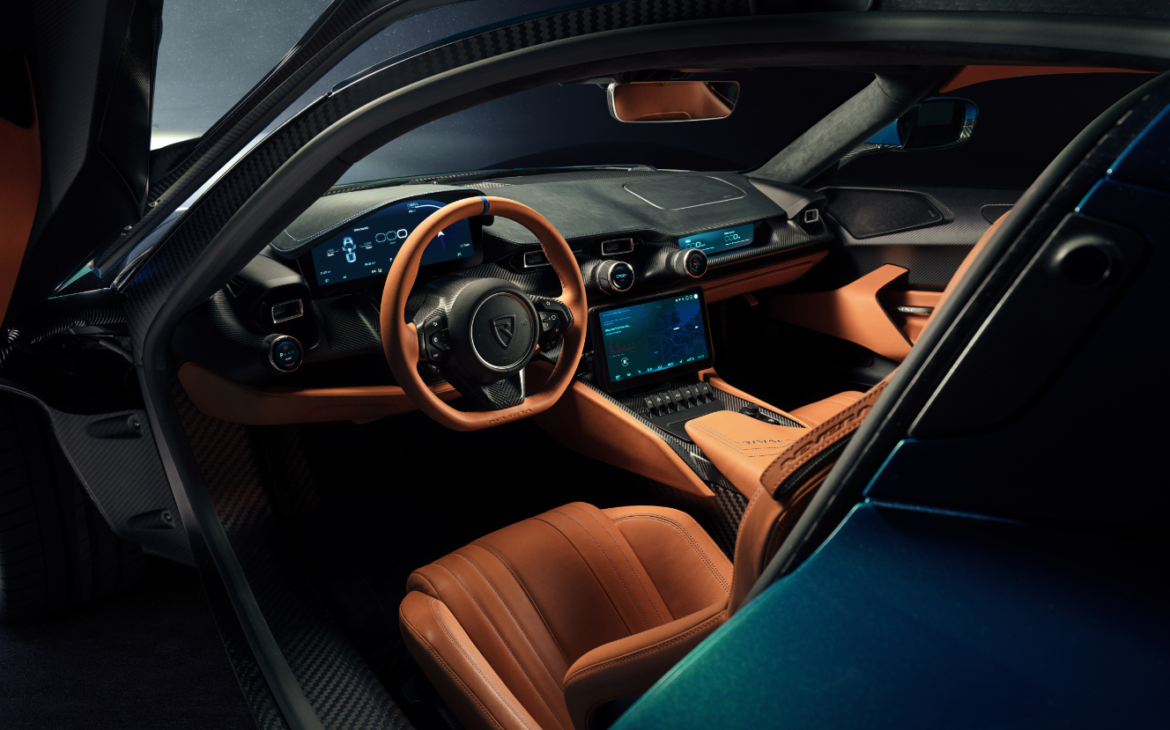 With space for two passengers and their luggage (100L boot space), the Nevera is a car made for regular use. There are three high-definition TFT screens in the cockpit, and the driver can choose how much information they want to see. Configured for both track driving and comfort, the cockpit is divided into two zones. The focus of the top segment is entirely placed on driving pleasure and performance, while the lower part houses the infotainment system, comfort control and driving data.
Tactile billet aluminum buttons and switches – including three displays with rotating controls – provide a resolutely analog feel, making the use of cutting-edge digital technology even more engaging. From the cockpit, the driver can monitor every aspect of the car's performance with real-time telemetry, which can be downloaded to a laptop or smartphone for later review.
Connectivity and the app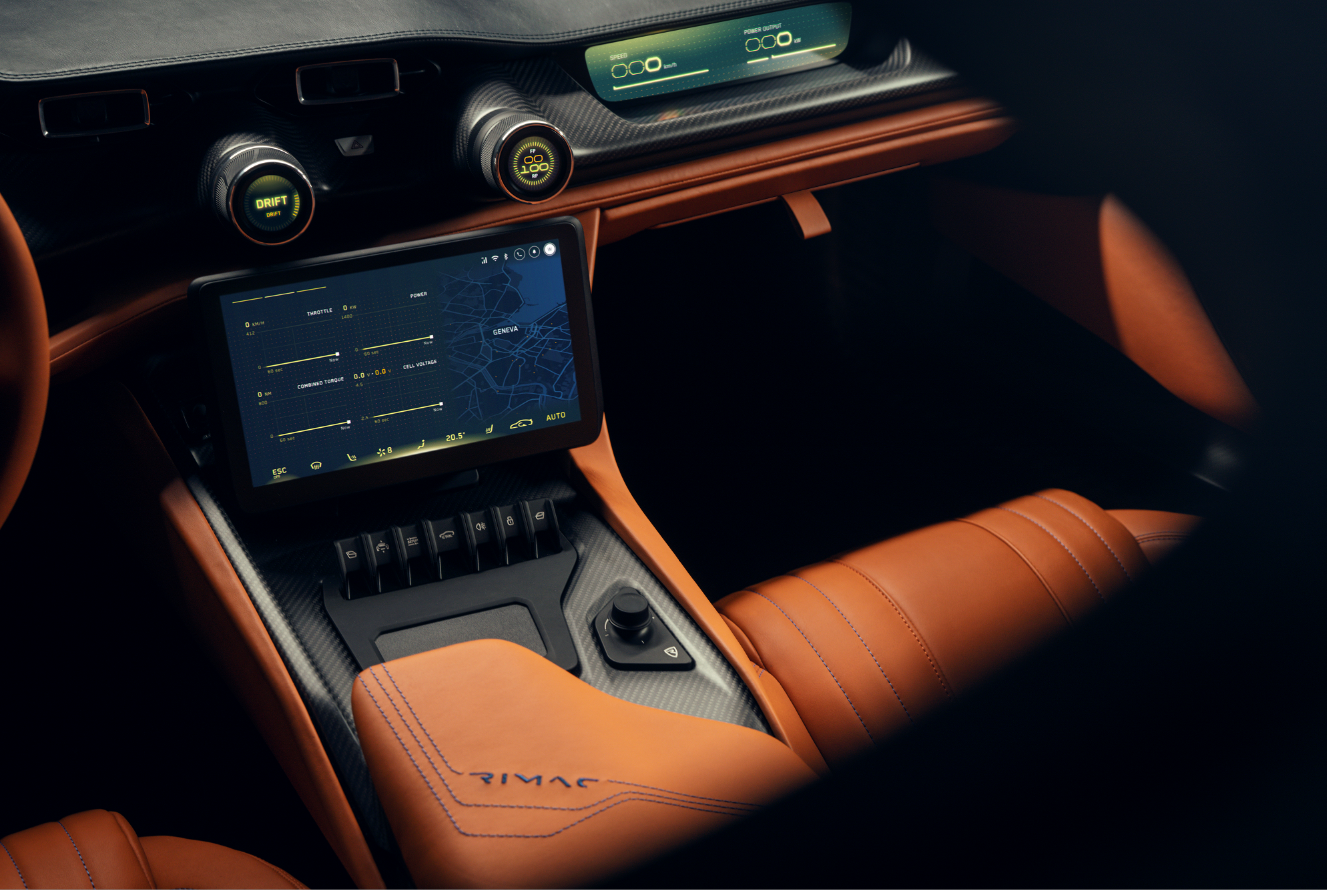 The Rimac M2M system delivers a wealth of real-time data to both the manufacturer and the owner. While the user is connected to the vehicle through an intuitive mobile app, the manufacturer receives anonymized performance data.
Using intuitive mobile applications developed in-house, Nevera owners can track live data, such as GPS location, charging speed, and battery status, while using it to analyze driving performance, metrics, and map previews on Android and iOS.
Near-unlimited personalization program
No two identical Neveras will come out of the Rimac factory, as customers can choose from a wide range of custom designs and material options. In addition to the company's premium individual personalization program, Rimac will offer its flagship in various editions: GT, Signature, Timeless, or the custom-made Bespoke.
Ultimate user experience
As part of the customer journey, every Nevera owner will be invited to Croatia to design their car to their liking. The Nevera will be exclusively available through Rimac's global dealer partners network in 19+ locations, in some of the largest cities across Europe, North America, Latin America, Europe, the Middle East, and Asia.