Domestic customers use smartphones and pay with cards, and two thirds of Croatians make an online purchase as many as four times a year.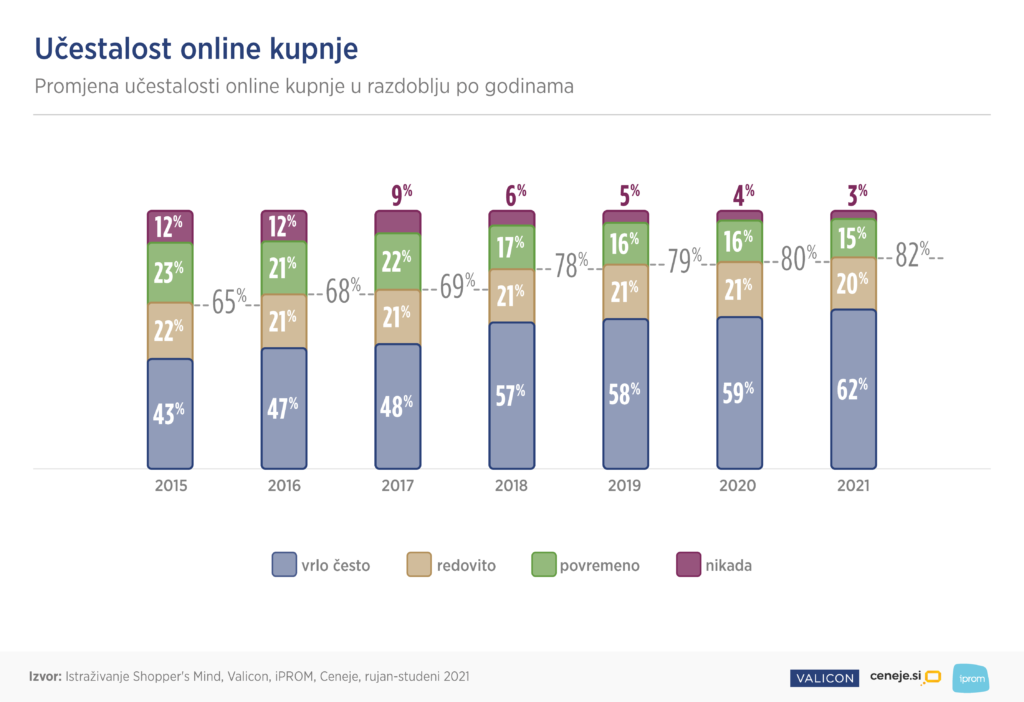 Clothing, footwear and accessories account for 43 percent of transactions in Croatia. The number and value of transactions is growing, so the price of the average fashion transaction has grown from HRK 394 to 447 in four years. Interestingly, among all online purchases, those in the home and garden category have the highest average value, which suggests that furniture is also frequently bought online. Thus, the average transaction for home or garden equipment amounted to HRK 1,242, while electronics, for example, averaged at HRK 927 per transaction.
Most customers shop locally, where they are willing to spend a lot more. For example, the average value of a transaction in domestic stores was HRK 721, as opposed to only HRK 268 in foreign online stores.
"Fashion is a category that has had a strong impact on the popularity of online shopping in the last two years. As a category, it has a higher purchase frequency, involving mostly young people as customers, which significantly affects the increase in the share of online sales. The increase in this category in the past year in Croatia was also influenced by the strong entry of new online retailers that specialize in this area and are known for their complete shopping experience," explains Matjaž Robinšak, research director and partner at Valicon.
The age demographics of online shoppers has changed in the last three years. There is an increase among members of the Baby Boom generation, which represent 30 percent of all customers. As expected for online customers, most of them belong to Generation X and millennials. Baby boomers, i.e. those between the ages of 55 and 74, who are presumed to be digitally unaware, claim to be frequently shopping online, with only six percent saying they have never bought anything online.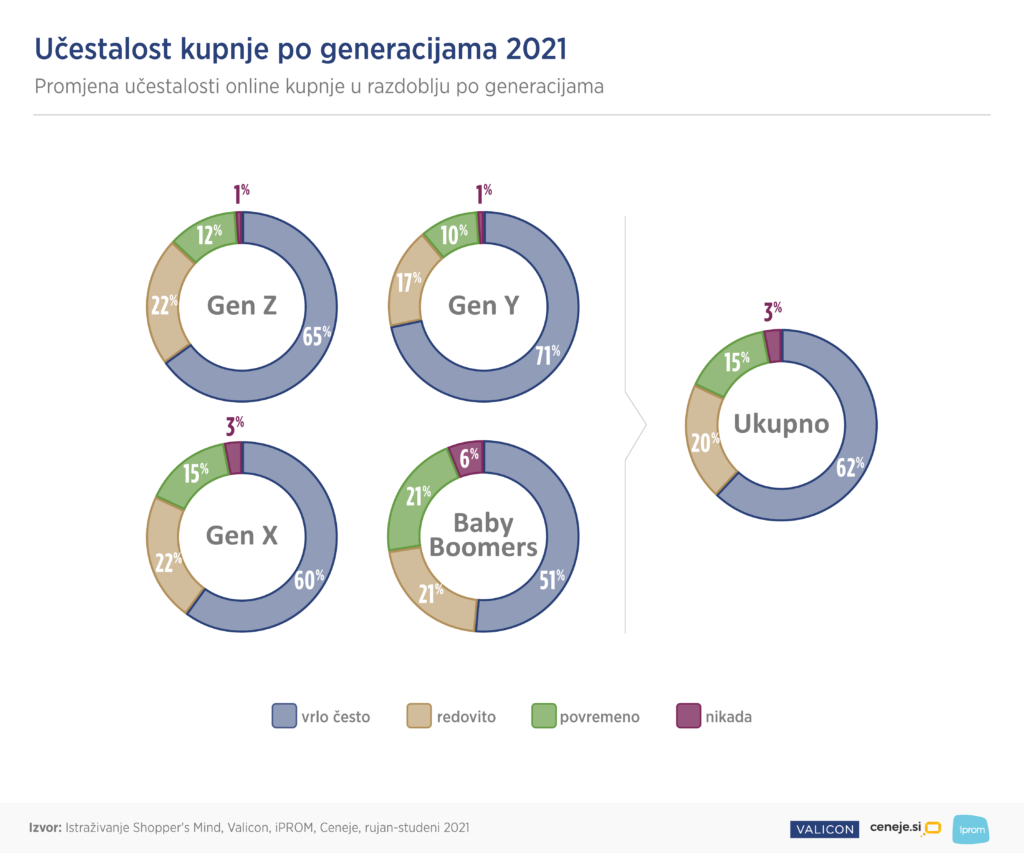 In the last two years, online customers in Croatia make the most purchases via mobile phones, and in 2021, 67 percent of customers made online purchases via smartphones, which they also use as the main source of information. Transactions are mostly paid for by cards, but by cash on delivery as well (40 percent). Researchers attribute the increase in COD payments to the increase in Gen Z online customers, who are 25 years old at most, so they probably don't have a card.
"At first glance, the trend in payment methods on the Croatian market shows a growing tendency to pay by cash on delivery, but this trend needs to be viewed from the context of the overall development of the e-commerce market. Mostly it is generated from the share of purchases in foreign online stores. Recently, however, domestic and local stores are growing in popularity, and cash payments are becoming more common in this market segment. In the long run, we expect that this trend will be reversed again," said Trpimir Smolić, Sales Director of iPROM Croatia.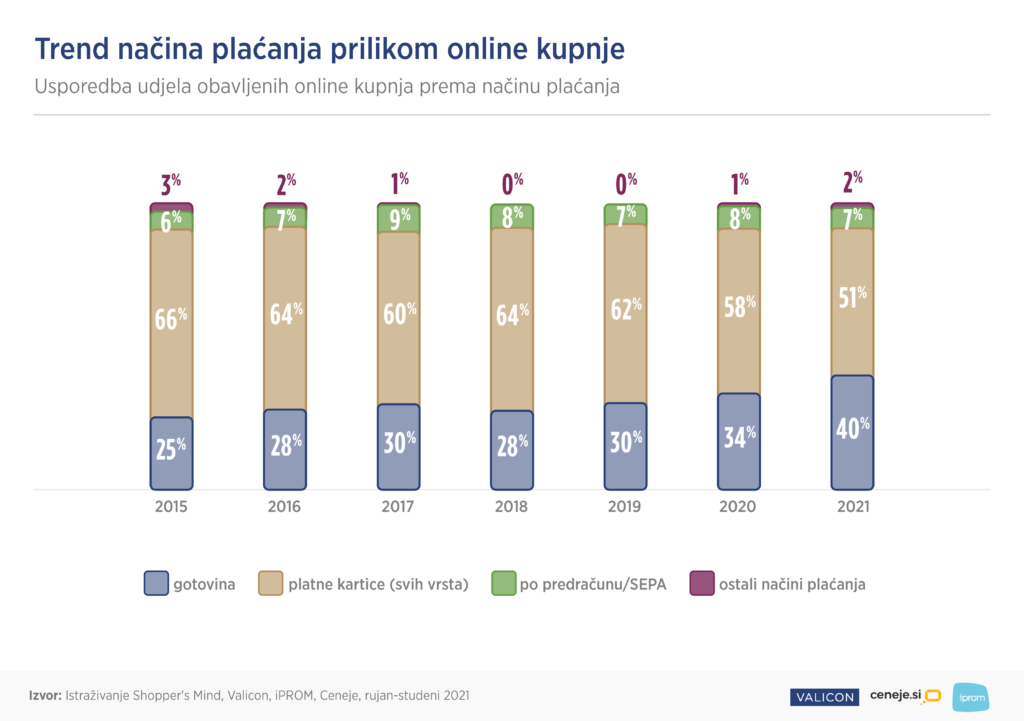 The 2021 Shopper's Mind survey was conducted in October and November by the project consortium of the market research company Valicon, the Jeftinije.hr platform, and the iPROM company. It used an online survey based on CAWI (computer-assisted web interviewing) through Valicon's online panel JaZnam.hr (representative sample) and a sample of online stores that independently invited their customers to participate. The data collected in this way is not used in comparative analyses and only serves to compare the online store to the representative sample.